Posted by Mandy on September 11th, 2012. Filed under:
Brownies
,
Chocolate
,
Cookies & Bars
,
Desserts
,
Frosting
,
Kids Can Help
.
I've said it before, and I'll say it again. Never has a combination of ingredients been more of a hit in my house than chocolate and peanut butter. It's simply divine! And by divine I mean, if you leave me alone with a pan of something with the ever-famous combination, I will (with no shame, I might add) eat the whole entire pan. What can I say, I'm a chocolate/peanut butter addict. These are utterly delicious so I won't chat endlessly about a bunch of random stuff today, but rather just share this recipe with you. Make it soon, and then invite me over to share the pan with you.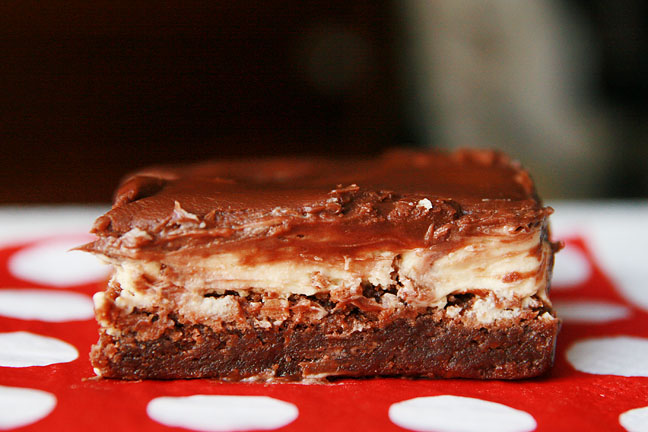 Gooey Fudgy Peanut Buttery Brownies
1 box (9×13 size) brownie mix
1 1/2 cups powdered sugar
1/2 cup butter
3 tablespoons creamy peanut butter
2 tablespoons cold milk
4 1/2 teaspoons instant vanilla pudding mix
1 can chocolate frosting
Make brownies according to package directions for a 9×13″ size pan, cool. Meanwhile, in a small bowl, beat the sugar, butter, peanut butter, milk, and pudding mix until smooth. Spread over cooled brownies. Cover and refrigerate for 30 minutes or until firm. Frost with fudge frosting just before cutting.
Recipe from: http://4littlefergusons.wordpress.com/2011/08/03/must-have-chocolate-2/