Posted by Mandy on September 6th, 2012. Filed under:
Main Dishes
,
Quick & Easy Weeknight Meals
,
Sandwiches
,
Seafood
,
Shrimp
.
It's no secret that I love sandwiches, wraps, and the like. Truth be told (and I think I've said this here on the blog before), I could live off of them. Another of my favorite foods is shrimp. Oh my heavens I could eat shrimp every single day of my life and never tire of its deliciousness. I love going to the beach and coming home with a big ice chest full of fresh shrimp from the gulf. The worst thing about shrimp is peeling and deveining them, but if you have the right tools even that task isn't that tough. It literally cooks in just minutes and is healthy for you too (unless you cover it in breading and deep fry it, yum yum!) Ahhhh, I could go on for days about my love for this little ocean crustacean. But I'll shut up and just share the recipe!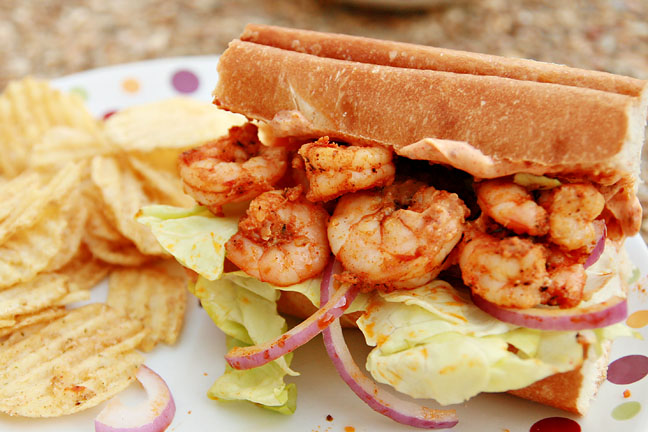 These are best served with some fresh made cole slaw, but I didn't have any on the day that I made this. So chips just had to work.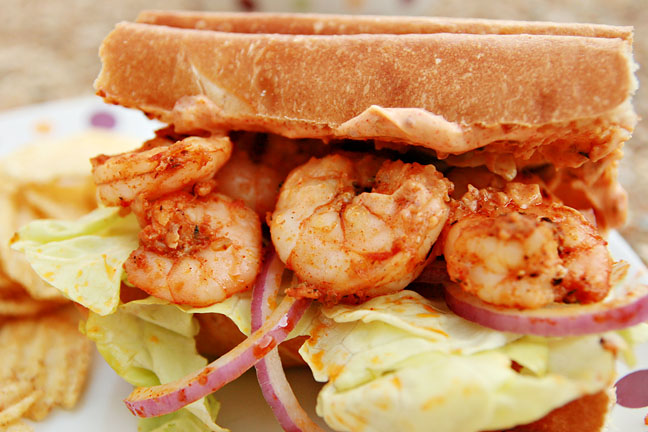 Shrimp Po' Boys
1 1/2 teaspoons Kosher salt
1/2-1 teaspoon cayenne pepper*
1 teaspoon garlic powder
1 teaspoon paprika
1/2 teaspoon dried oregano
1/2 teaspoon dried thyme
1/2 teaspoon freshly ground black pepper
1/2 teaspoon onion powder
1 1/2 pounds large shrimp, peeled & deveined, patted dry
2 teaspoons canola oil
4 hoagie, sub, or French rolls, split horizontally
Remoulade sauce or mayonnaise
Fixins', as desired (lettuce, onion, pickle, hot pepper sauce, etc.)
In a shallow dish, whisk together the spices, salt & pepper. Add the shrimp and coat all of the shrimp well with the spice mixture. Heat oil in a large saute pan over medium-high heat. Add the shrimp and cook for 2-3 minutes on each side, or until the shrimp are cooked through. DO NOT OVERCOOK! Spread a thin layer of remoulade sauce or mayonnaise on the rolls, top as desired with shrimp and fixins'.
*Note: When I made this recipe, the shrimp was very spicy, a little too spicy for my taste. It has been a while since I made this particular recipe so I'm not sure how much cayenne I added but the next time I make it I'll start with a very small amount and go from there. If you like your food super spicy, then by all means go ahead and add the entire teaspoon.
Recipe adapted from: http://smells-like-home.com/2011/09/shrimp-po-boys/