Posted by Mandy on August 21st, 2012. Filed under:
Brownies
,
Chocolate
,
Desserts
,
Gifts from the Kitchen
.
There are about a million different recipes out there for these brownies. This recipe has been around for as long as I can remember. You can choose any one of your favorite community cookbooks around here and you're sure to find some version of it. And there's a reason for that…because they are just that dang good! The day that I made these my hubby came home and as soon as he walked in the door he saw the pan of brownies sitting on the kitchen counter. I immediately started filling him in on all the goings-on of the day, how the kids drove me crazy, how I was at my whits end, etc. During the middle of me talking, he takes his first bite, and puts his hand up in my face and says, "Mmmmmmm, just let me enjoy this for a second." Yep, I was basically told to shut the heck up so he could fully appreciate the deliciousness of his caramel brownie.
Now I know the recipe title has the word "easy" in it. And the reason that I can call them that is that I've done all of the hard work for you. Most of the recipes floating around call for you to divide the brownie mixture in half and spread half on the bottom of a 9×13″ dish, pour the caramel over the bottom layer, and then top with the other half of the brownie mixture. I tried this route about 6 different times, and although the product that came out of the oven was utterly delicious, the caramel always sank to the bottom of the pan and stuck. So then I tried foil in the pan first. All that did was make the caramel stick to the foil so that I had to pick tiny pieces of foil out of the caramel before I could eat it. Can you imagine cleaning up hardened caramel from a dish? Yeah, not fun. Not fun at all. So this time I decided I'd use about 2/3 of the brownie mixture spread on the bottom of the dish, and then pour the caramel over, while crumbling the remaining brownie batter (or really it's more like a dough because it's so thick) over the caramel. Sure, the caramel isn't completely covered on the top but I promise you it's so much easier this way. Just trust me, don't go through half a dozen boxes of cake mix and bags of caramel before you figure it out.
Oh, and one more thing to mention, the photo pictured is one of the batches that stuck. They look pretty but it was as hard to get it out of the pan as it is for me to get my kids to eat broccoli (and that's impossible!) Let's just say that the pan that was successful was so good it didn't last long enough to take photos of and leave it at that.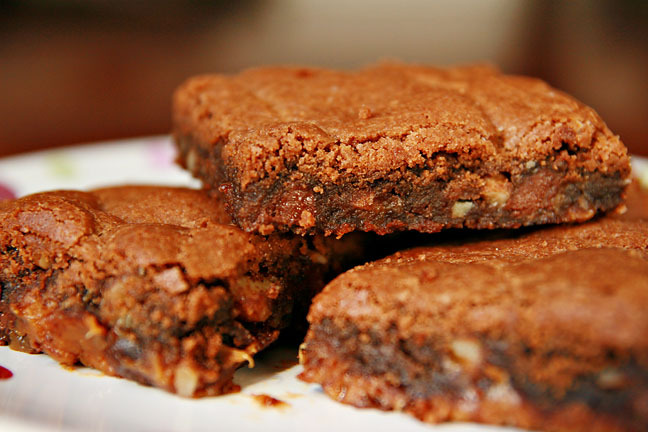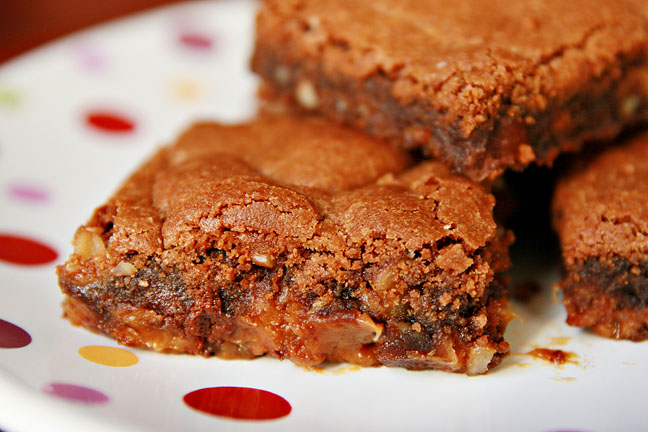 Easy Caramel Brownies
1 box German chocolate cake mix
1 cup finely chopped pecans
1/3 cup evaporated milk
1/2 cup (additional) evaporated milk
1/2 cup butter, melted
60 whole caramels, unwrapped (I prefer Kraft)
1/2 cup semi-sweet chocolate chips
Preheat oven to 350 degrees F. In a large bowl, mix together cake mix, chopped pecans, 1/3 cup evaporated milk, and melted butter. Stir together until totally combined. Mixture will be very thick. Press two thirds of the mixture into a well-greased 9×13″ baking dish. Bake for 8 to 10 minutes. Remove pan from oven and set aside. In a double boiler (or a heatproof bowl set over a saucepan of boiling water) melt caramels with additional 1/2 cup evaporated milk. When melted and combined, pour over brownie base. Sprinkle chocolate chips evenly over the caramel. Top with crumbles of the remaining brownie batter/dough. Bake for 20 to 25 minutes. Remove from pan and allow to cool to room temperature before serving.
Adapted from: http://thepioneerwoman.com/cooking/2011/05/knock-you-naked-brownies/