Posted by Mandy on August 17th, 2012. Filed under:
Brunch
,
Crisps & Cobblers
,
Desserts
,
Fruit Desserts
.
I don't know about where you are, but it's pouring down rain here. Yucky, nasty, dreary day. Perfect day to stay inside and try out a bunch of new recipes! Not that I'll have that luxury but a girl can dream, right?

The other day I was at the store and they had strawberries on sale. Strawberries are one of those things that I absolutley love but only buy when they are on sale because they are quite expensive at times. I absolutely love them! So when I found them on sale I decided that instead of just washing them and eating them I'd actually use them to make something this time.
My grandmother used to make this super simple cobbler out of fresh peaches every summer. She'd just stew them for a little while with some sugar to make a sweet sauce, and then bake them with flour, sugar, and butter. Easy peasy! So I thought, "Why not try that same recipe with these strawberries?" Boy am I glad that I did because this was absolutely delicious! This one's going to be made many times in the future for sure!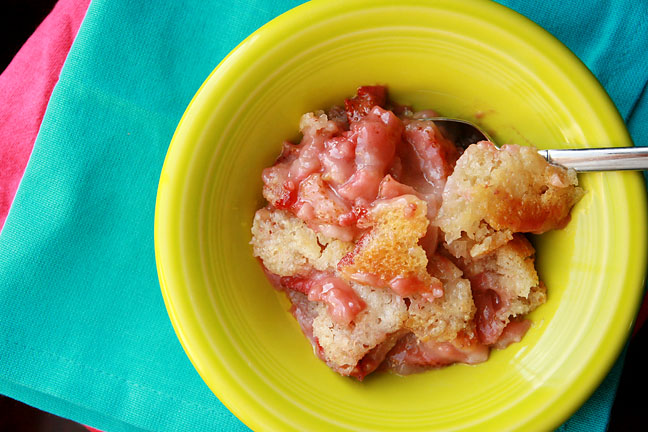 Strawberry Cobbler
2 pounds fresh strawberries
1 1/2 cups self-rising flour
1 1/2 cups milk
1 1/2 sticks butter
2 cups sugar, divided
Remove the stem from the berries and cut each strawberry into quarters. Pour into a large bowl and sprinkle 1/2 cup sugar over the strawberries, stirring to cover all. Allow to sit on the countertop for about 30 minutes, stirring every few minutes, as strawberries macerate.
Preheat oven to 350 degrees F. While the oven is preheating, place the butter in a 9×13″ baking dish and place in the oven to melt while you prepare the other ingredients. Stir together the flour, milk, and remaining sugar. Pour into the baking dish with the butter, pouring evenly around the dish but being careful not to stir the mixture. Top evenly with the macerated strawberries. Bake until the top crust (which will rise to the top) is golden brown.