Posted by Mandy on March 29th, 2012. Filed under:
Appetizers
,
Dips
,
Gifts from the Kitchen
,
Main Dishes
,
Quick & Easy Weeknight Meals
,
Salads
,
Sauce
,
Vegetables
.
There just are no words to describe my love for ranch dressing. I have always liked it, but my obsession with it started back in school when my best friend suggested I dip my french fries in it. At first it sounded awful, but needless to say, I was immediately hooked. Then I began putting it on everything – pizza, burgers, pasta (ranch pasta salad? YUM!), basically anything that you can imagine.
Strangely enough, I now find it absolutely delicious to put ranch dressing on salad. Say what? Yep, I now love salads (wouldn't touch the stuff back in the day) and can't get enough of them so this ranch hits the spot on the days when I'm craving some yummy "rabbit food," as my brother calls it. I have served this dressing on several occassions to company when we have people over for dinner, and I might add that on one occassion the company woke up the next morning and had the leftover shrimp dipped in this dressing for breakfast. It's that good, folks!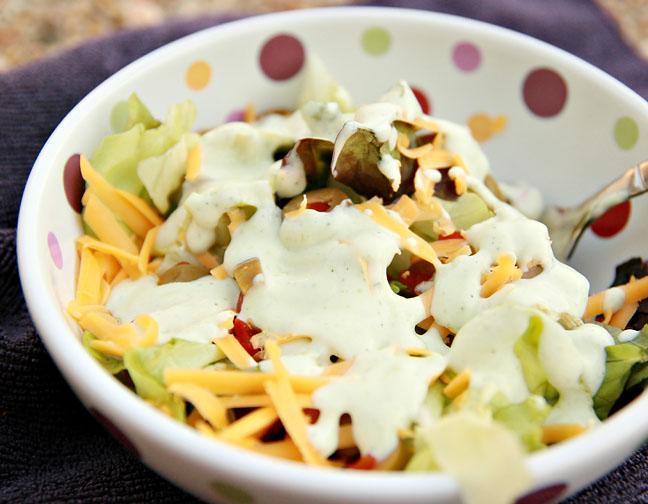 Ranch Dressing
3/4 cup mayonnaise
3/4 cup sour cream
1 tablespoon olive oil
1 tablespoon lemon juice
1 cup buttermilk
1 small bunch chives
small handful fresh parsley
1 clove garlic, chopped or minced
1/2 teaspoon kosher salt
freshly ground black pepper
Combine all ingredients in a blender or food processor and blend for 10 seconds. Taste and adjust seasonings as desired. Blend again until completely combined; store in an airtight container in the refrigerator until ready to serve.
Recipe very lightly adapted from: http://annies-eats.com/2010/07/08/ranch-dressing/