Posted by Mandy on October 25th, 2010. Filed under:
Cakes
,
Desserts
,
Holiday Favorites
.
Whenever I make a dessert to take somewhere, I try to make it somewhat appropriate to the season. This dessert was always a traditional dish to be served at our office Christmas parties back in the day when I was still working, before my stay-at-home-mom days. I kind of forgot about this dessert after leaving there, but then one Thanksgiving I was trying to think of something "season-appropriate" to take that wouldn't be like the normal desserts we usually had. This time I wanted to take something to WOW! people and to really show just how good of a cook I could be. That reminded me of this dessert, and how popular it always was in our office. When I first made this dessert, I baked the cake and before crumbling it (like the recipe calls for), I let Matt taste just the bare cake. He immediately fell in love with it! When I told him that I was going to make it even better by adding a frosting to it, he got mad and said, "You're not going to make it better, putting frosting on that cake will ruin it!" Well little did he know that once tasting this cake fully prepared, he'd have once and for all a dessert that he could officially call his "All-Time Favorite Dessert". And with him not being much of a sweets person, I couldn't it. I have made this dessert for numerous get togethers since that day a few years ago, and every single time Matt loves it. I have even caught him before sitting on the couch with nothing but a spoon and the dessert pan! Mark this one down in your favorites, because I promise you will be coming back to it again and again!
To start, you'll make a cake using the following ingredients.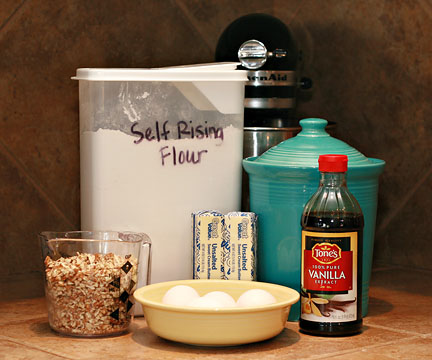 Start by creaming the butter and sugar together, and then adding the other ingredients. Stir all of this by hand to mix.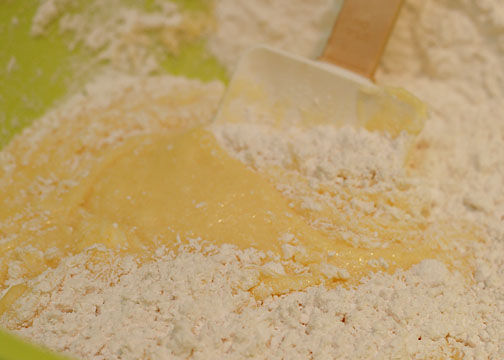 Add the pecans last and stir well so that they are all throughout the mixture.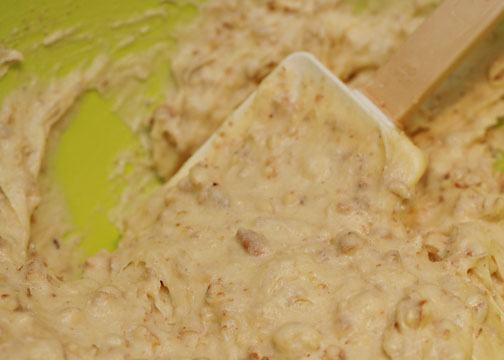 Pour into a 9×13″ baking dish (I use glass) and bake at 350 degrees for 30-40 minutes.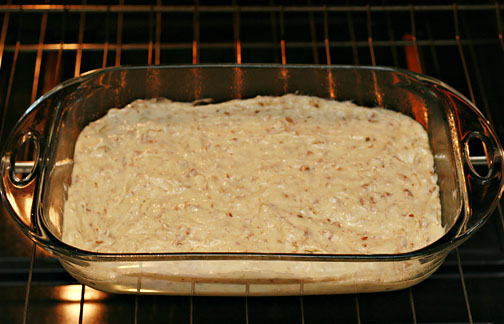 Remove and allow to cool completely. Taste it at this point too, like I did, and you'll wonder what could possibly make this dessert any better than it already is!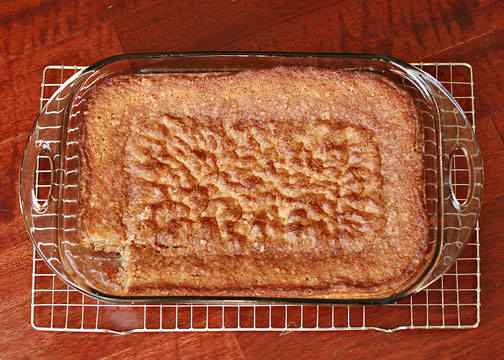 Crumble the cake into a large bowl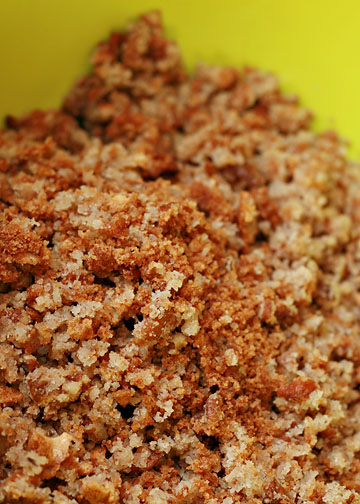 Now you are ready to make your frosting with the following ingredients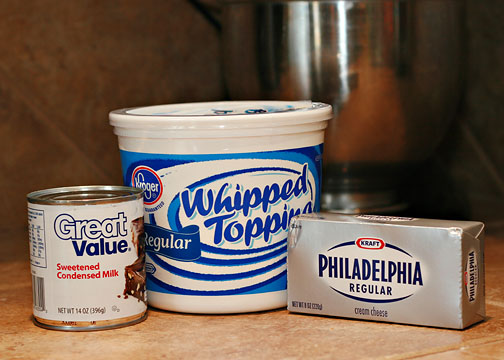 Make sure that your Cool Whip is thawed and your cream cheese is softened. Whip everything together until thoroughly combined. Spread half of the crumbled cake into the bottom of your serving dish. You can use whatever you'd like. Usually I use a 9×13″ baking dish with a lid, but since I wanted it to look pretty for the photos this time I used a large green serving bowl. Following the first layer of cake, spread half the frosting and repeat layers. Keep chilled until it's time to serve.
Now get in your car NOW if you know what's good for you and go get these ingredients because – trust me – you will enjoy this dessert soooooo much more than you think you will! And if you are able to keep yourself from downing the entire bowl yourself, share some with someone else so that they can enjoy it just as much as you did!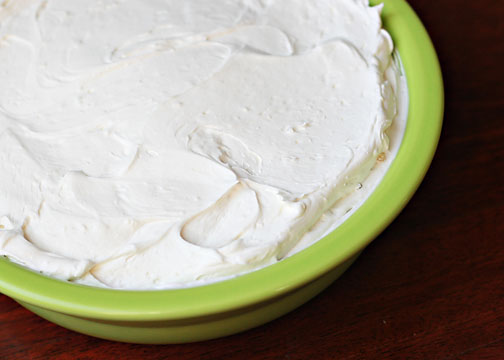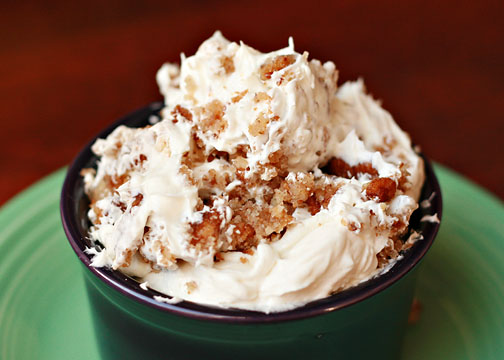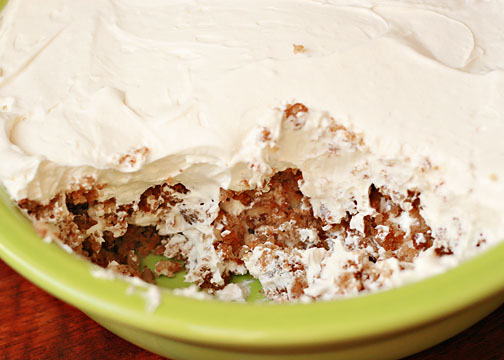 Pecan Pie Cake
2 cups granulated sugar
2 sticks butter, softened
1 1/2 cups self-rising flour
4 eggs
1 teaspoon vanilla
2 cups chopped pecans
Cream butter and sugar; add remaining ingredients, stirring by hand. Pour into a 9×13″ baking dish and bake for 30-40 minutes at 350 degrees. Crumble cake; alternate cake and frosting to make two layers of each.
Pecan Pie Cake Frosting
1 lg. container whipped topping
1 (14 oz) can sweetened condensed milk
1 (8 oz) package cream cheese, softened
Blend all ingredients together well using a mixer.