Posted by Mandy on March 27th, 2012. Filed under:
Beef
,
Main Dishes
,
Soups & Stews
,
Uncategorized
,
Vegetables
.
I know I've mentioned my Mae Mae on this site many, many times and I believe I've even mentioned her famous soup before. My Paw Paw used to grow the best tomatoes. Matter of fact, I'd kill for one of them right about now. I have never in my life tasted one that tasted even close to his. He had acres and acres of tomatoes so there was always an overabundance of them at their house. Lucky was the day that Mae Mae made us her famous soup. I say famous because everyone in Canton has had Mae Mae's soup at some point and everyone that's ever had it is always begging for more. Please do me a favor and try it with crumbled cornbread in it…you won't ever complain about vegetables again when they are this delicious!
P.S. This recipe isn't so much of a "recipe" as it as a list of ingredients. I just dump things together and cook it all in one pot. Mae Mae never wrote down amounts of her ingredients so just add ingredients as you like.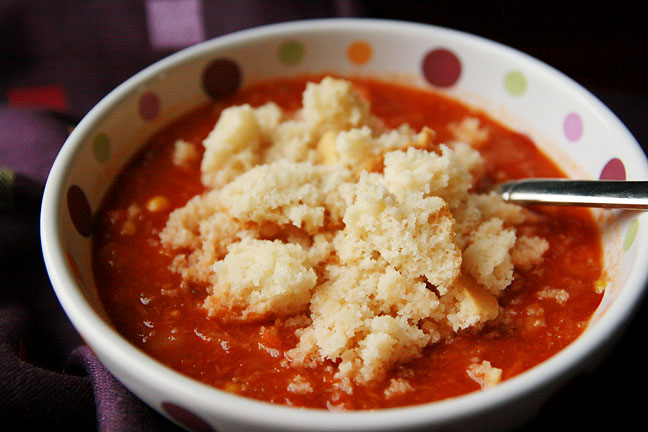 Mae Mae's Famous Vegetable Soup
stew meat
carrots, chopped
celery, chopped
1 teaspoon sugar
1 can creamed corn
butter, to taste (I usually only use a tablespoon or two)
onion, chopped
tomatoes, finely diced (I use canned and process in a food processor)
potatoes, peeled and cubed
1 can lima beans, drained
chicken broth
Boil stew meat until done. Allow to cool and then cut up in very small pieces. Take broth from stew meat and drain it into the soup pot. Put onions, carrots, lots of tomatoes, celery, potatoes, and sugar. Simmer for a while, until potatoes are almost tender. Add creamed corn and lima beans. Add butter and chicken broth until it's to the consistency you like (like it thinner? Add more broth. Like it thicker? Add less broth.) Serve hot with homemade cornbread crumbled in it.