Posted by Mandy on March 16th, 2012. Filed under:
Chicken
,
Holiday Favorites
,
Main Dishes
,
Rice
,
Thanksgiving
,
Vegetables
.
I'm a sucker for a good chicken casserole. What better way to use up leftover chicken than to throw it in a big pan with lots of creamy goodness? And this chicken casserole is one of my favorites. My mother-in-law claims that she can't cook as good as she used to, but every time she cooks something it tastes delicious to me. Thankfully, she was kind enough to share her delicious recipe with me so that I can share it with all of you! She makes this casserole for all of our holiday celebrations and I always eat way more than my fair share. I just can't help it, it's so good! I know all of my readers (hi y'all!) will love it just as much!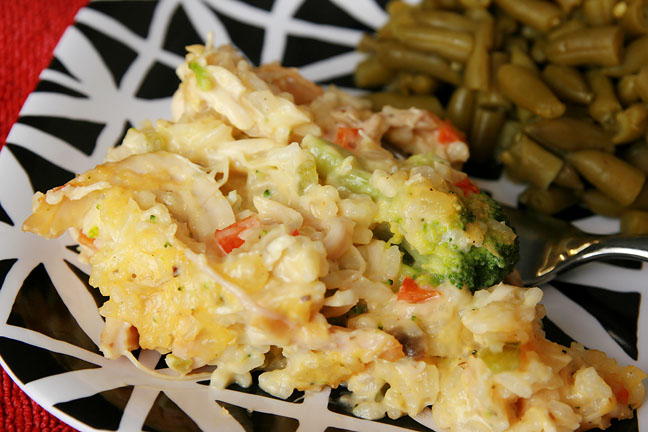 Look at all of those beautiful colors in one dish!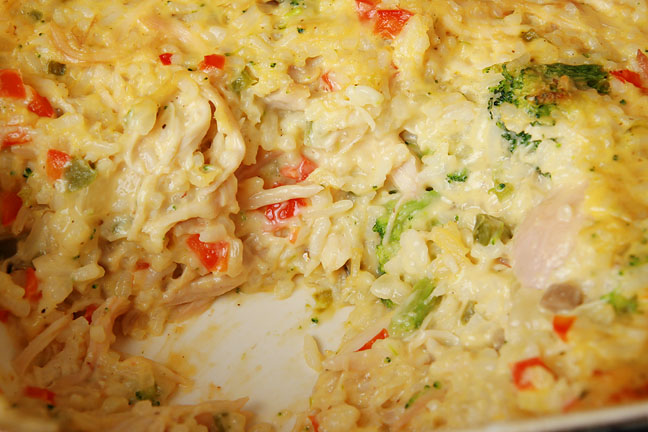 Carla's Chicken Casserole
2 cups cooked rice
1 cup chopped onion
1/2 cup chopped red bell pepper
1/2 cup chopped green bell pepper
broccoli, cut into pieces (however much you prefer)
1 can cream of mushroom soup
1/2 cup milk
1 (8 oz) jalapeno cheese (or regular cheese, if you prefer)
chopped, cooked chicken (however much you prefer)
Preheat oven to 350 degrees F. Saute onions and peppers in two tablespoons butter. Mix all ingredients together and pour into a large casserole dish. Bake for 25-30 minutes or until hot and bubbly.