Posted by Mandy on March 14th, 2012. Filed under:
Appetizers
,
Birthday Party Ideas
,
Brunch
,
Chicken
,
Main Dishes
,
Quick & Easy Weeknight Meals
,
Salads
,
Sandwiches
.
Chicken salad is one of those things that I could pretty much live off of if I had to. Then again, I'm a mayonnaise lover so it's right up my alley. I love trying any new chicken salad recipes and this one has been a long time favorite of mine for about a year now. I almost feel guilty for not having shared this recipe with you all before. I've actually had this recipe photographed and everything just sitting in my folder of "Photos for Supermom".
Speaking of this folder, have I ever told you about it? It's got about 35 photos at any given time recipes that I have made and photographed and am just waiting for the perfect time to post. I hope that excites you all like it does me, so many delicious recipes to always share!
I faithfully keep all of the ingredients on hand to make this chicken salad whenever the craving hits. Once you've tasted it, I feel sure you'll do the same.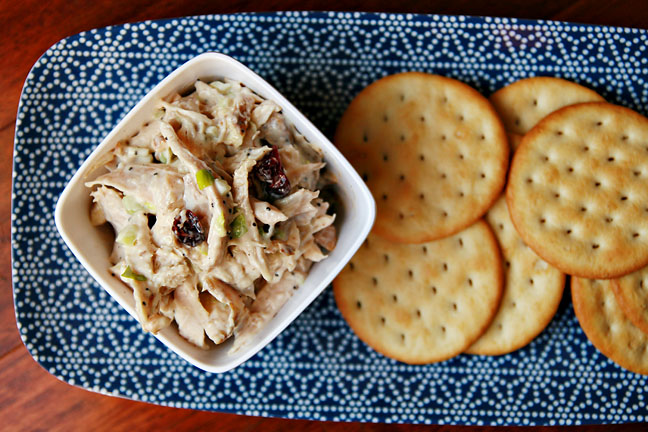 It's every bit as delicious as it looks…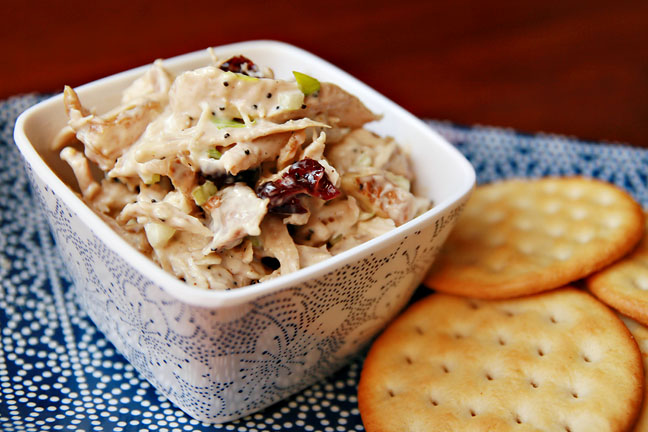 Fancy Schmancy Chicken Salad
For the dressing:
1 cup mayonnaise (I always use real mayonnaise for this recipe, not light)
4 teaspoons apple cider vinegar
6 teaspoons honey
1 teaspoon poppy seeds
salt & pepper, to taste
For the salad:
1 small rotisserie chicken, shredded into bite size pieces (about 4 cups)
2 ounces pecans, lightly toasted and chopped*
1 cup small red grapes (halved if large)
2 celery stalks (with leaves), chopped
Measure and mix dressing ingredients, taste and adjust seasoning if needed. Set aside. Combine salad ingredients, then pour the dressing over the top. Stir to combine. Toss and refrigerate for at least one hour before serving.
* To toast pecans, place in a dry pan over medium heat, stirring occasionally until fragrant.
Recipe from: http://www.simplyscratch.com/2010/02/yum-chicken-salad.html