Posted by Mandy on March 7th, 2012. Filed under:
Main Dishes
,
Pork
,
Rice
,
Soups & Stews
,
Southern Classics
.
This recipe holds many memories for me, as it's a recipe I remember my mom making all the time growing up. And usually my recipes bring back good memories, but this one, not so much. Why, you ask? Because kids are mean.
My mom was a wonderful mom, one of those moms that always made sure to pack a homemade lunch. And she really put the extra time in that moms should too. It was not uncommon for us to have a delicious, hot lunch in our thermos containers. This was one of those lunches. I guess this recipe makes so much that she always had leftovers for our lunch the next day because I remember taking it for lunch quite often. I loved the dish, but unfortunately the mean kids in school always made ugly comments about it. "That looks disgusting! You're really gonna eat that?" Yeah, like I said, kids are mean. So eventually I got so sick of hearing it that I decided to stop eating my lunch on the days that she sent me red beans and rice. It was easier that way than being picked on. Then we went by my grandmother's house for our daily afternoon visit, I'd go around the side of the house and dump out the thermos container so that my mom wouldn't know I hadn't eaten. It's really sad looking back and thinking about it and I should have told my mom about it all, but I never was much of a tattle-tell so I just kept it all in.
So I said all of that to say, I'm now a proud red beans and rice eater. It's not too bad for you, super cheap and easy to make, and absolutely delicious. Anytime my mom makes this dish now, I'm more than willing to eat it. She made it specially for me a couple weeks ago just so I could blog the recipe for all of you. See, just like I told you, she's a wonderful mom.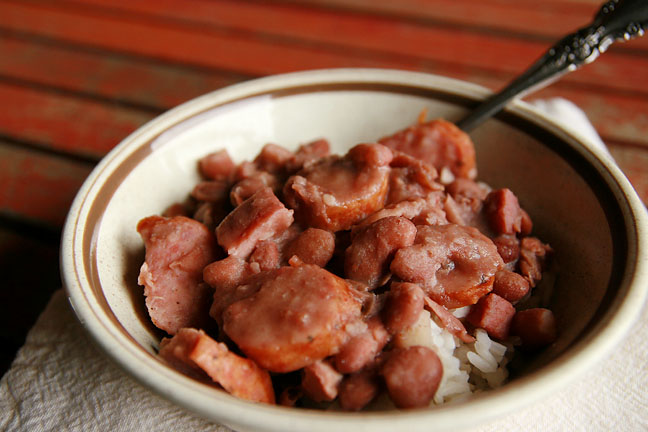 Red Beans & Rice
1 pound dry red beans
1 large hambone
1 large onion, chopped
1 clove garlic, minced
1/8 – 1 teaspoon ground red pepper (depending on how spicy you like your food)
2 teaspoons salt
1 pound smoked sausage, sliced at an angle into bite size pieces
1 whole bay leaf
Soak beans in water to cover overnight and drain. Put into a large Dutch oven or kettle and cover with water. Add all ingredients except sausage. Cook over medium heat until beans are tender; add sausage. Simmer until sauce gets soupy and thickens somewhat. Serve over hot white rice.