Posted by Mandy on February 28th, 2012. Filed under:
Main Dishes
,
Pork
,
Quick & Easy Weeknight Meals
,
Rice
,
Sauce
,
Vegetables
.
One day while over at Mimi's (my mother-in-law's) house she was making this yummy looking dinner. She said that it was a recipe that my sister-in-law Stacey had made for her a few days earlier and that it was so good that Papa (my father-in-law) had already requested it again. Even my three kids were standing by watching her cook it, all the while begging for pieces of sausage and "yummy sauce". We even took some extra home with us so my middle daughter could eat another helping later that night. Within the next week, I had already made our family our own dish because it went over so well. Thank goodness Stacey was kind enough to share her recipe. This would make a delicious last minute throw-together meal on a weeknight. Turn on the rice maker while you make the sausage and peppers to serve over the rice and you're set!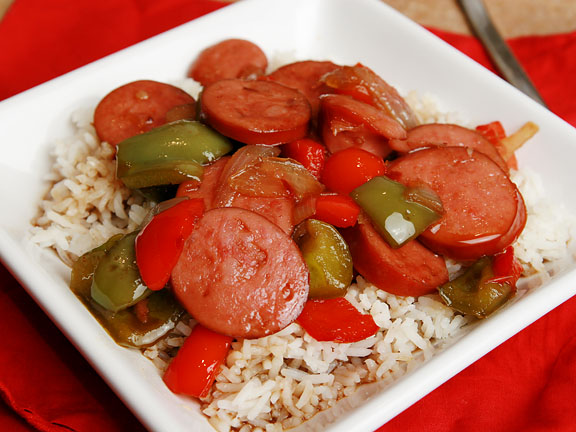 Stacey's Quick Sausage & Pepper Dinner
2 packages smoked sausage, sliced
2 tablespoons canola or vegetable oil
1 large onion, chopped
2 bell peppers, chopped (any colors will work well)
1/2 cup water
1/4 cup apple jelly
2 tablespoons Worcestershire sauce
1 tablespoon soy sauce
dash of red pepper flakes
In a large skillet set over medium-high heat, brown the sausage in the oil. Add bell peppers and onion to skillet. In a large glass bowl, heat apple jelly, water, Worcestershire sauce, soy sauce, and red pepper in the microwave until the jelly is smooth. Stir until completely combined. Add sauce to the veggies and sausage. Heat, stirring occasionally, over medium heat until the sauce is thickened slightly. Serve over a bed of hot rice.