Posted by Mandy on January 31st, 2012. Filed under:
Appetizers
,
Beef
,
Grilling
,
Kids Can Help
,
Main Dishes
,
Quick & Easy Weeknight Meals
,
Sandwiches
,
Vegetables
,
Wraps
.
One night about a month ago, I wasn't feeling my best and quite frankly, just didn't feel like cooking supper. Yes, even I have these nights. I love to cook more than anyone else I know but there are times when I just can't stand the thought of fixing another dinner at home. So I looked in my refrigerator for a quick throw-together meal and the only meat in my fridge was roast beef. I don't buy roast beef often, because we just don't eat it much on sandwiches like we do turkey and ham so I had no idea what to make. Thankfully, I had a package of mushrooms, some onions, provolone cheese, and a red bell pepper too. Heck yeah! I knew just what to make – these wraps were out of this world delicious! I tell ya, it doesn't get any easier than this folks. A little chopping, a little sauteing (how do you spell that word, BTW?), a little wrapping and grilling, and dinner is done! Oh, and since these are a favorite of the men in my house, I feel sure these would be great for your Super Bowl party this weekend too.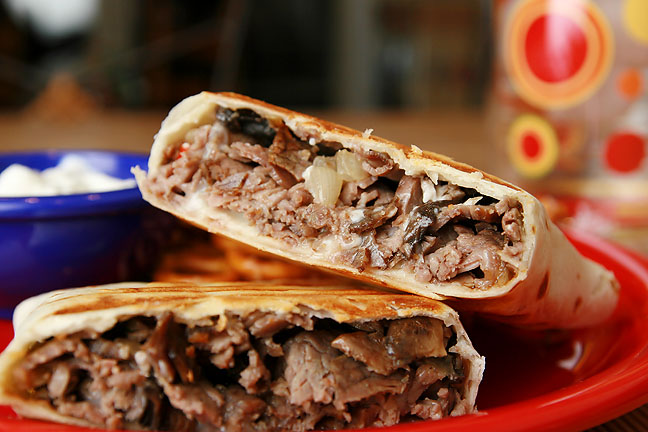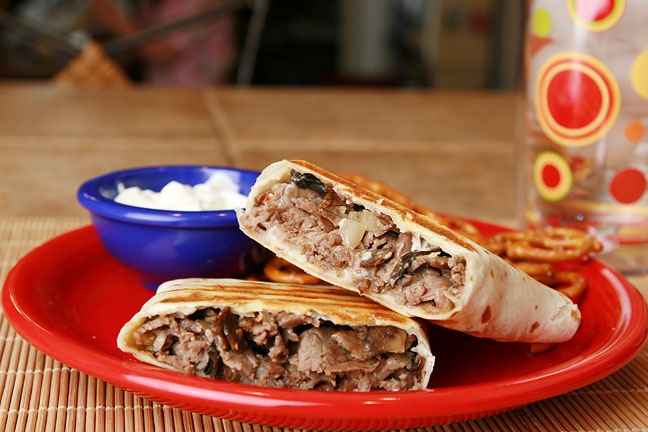 Quick Roast Beef Wraps
deli sliced roast beef, cut into small pieces (however much you prefer*)
mushrooms
sliced onion
chopped red bell pepper
sliced Provolone cheese
Worcestershire sauce
salt & pepper, to taste
oil, for sauteing the vegetables
flour tortillas
mayonnaise and sour cream, if desired
spray butter
Set a large skillet over medium-high heat; add oil. Once oil is heated, add onions, bell pepper, and mushrooms. Cook, stirring occasionally, until the onions are semi-soft and the mushrooms are heated through. Meanwhile, set a grill pan over medium-high heat so that it will be warm in time to grill the wrap when the filling is finished. Add roast beef to the onion and pepper mixture, cooking until completely heated through, stirring often. Add salt, pepper, and Worcestershire sauce to taste (usually a couple shakes of salt, a couple grinds of pepper, and a few shakes of Worcestershire sauce). Spread mayonnaise on a wrap, and fill wrap with the warm roast beef mixture. Top with sliced Provolone cheese. Spray the wrapped tortilla lightly with butter spray and place wrap on grill pan; cover with a grill press. (If you don't have a grill press, use a brick covered in foil to add weight to the wra.) Grill over medium-high heat until browned and cheese is melted. Serve hot with sour cream for dipping, if desired.
*Note: Amounts of the ingredients for this recipe will depend on how many people you plan to serve, I use about 1 1/2 pounds for my family of five, 1 package of mushrooms, 1 onion, and 1/2 bell pepper. There is usually a good bit leftover for the following day, and leftovers of this filling are amazingly delicious! Just heat the roast beef mixture the next day in the microwave, stuff into the tortilla with cheese, and grill the wrap.