Posted by Mandy on January 24th, 2012. Filed under:
Cakes
,
Chocolate
,
Desserts
,
Frosting
,
Holiday Favorites
.
I read online somewhere today that it's National Peanut Butter Day? Peanut Butter is reason enough for me to celebrate, how about you? Peanut butter is one of those things that I couldn't live without if I tried. It's so creamy (or crunchy), sweet, nutty, delicious. I just can't get enough of it, especially when it's combined with chocolate.
So needless to say for my birthday last month I had to choose a peanut butter/chocolate cake of some sort. I thought back to this cake, a cake that goes waaaaaaaaay back for my family. When I was a child, my mom was our Brownie Girl Scout leader. So at Christmas time she would get sweet little happies from all of the moms of the children in our troop. That one Christmas many years ago was the first time that I tasted this cake, and I have not forgotten it since.
Mrs. Martha, a sweet family friend of ours, gave my mom this cake prepared and wrapped up all pretty. And to make it even better, she hand wrote a card with the recipe and attached it to the cake wrapping. A few years ago when we did a fundraiser cookbook for my son, I found this original hand-written recipe in my mom's personal collection. This was like finding gold to me and I have been looking for the perfect occassion to make it ever since. And what better excuse than my 30th birthday last month? Can't think of one? Me either so that's just what I did and now I'm passing the heavenly recipe along to all of you. I know you'll be unable to resist a piece with each walk by this delicious cake!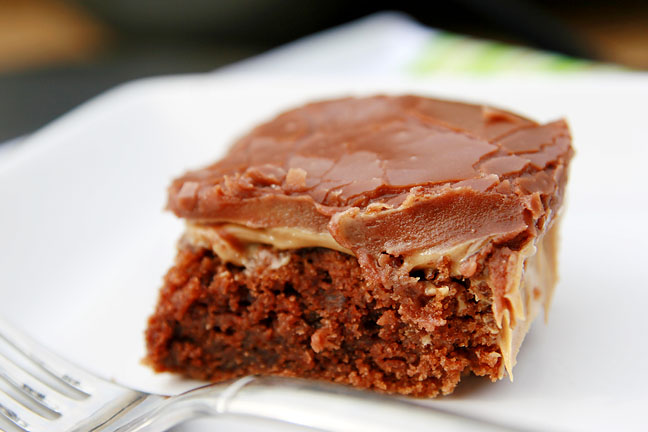 Peanut Butter Fudge Cake
For the cake:
1 cup butter
1/4 cup cocoa
1/2 cup buttermilk
1 cup water
2 large eggs, beaten
2 cups granulated sugar
2 cups all-purpose flour
1 teaspoon baking soda
1 teaspoon vanilla
For the peanut butter layer:
1 1/2 cups peanut butter (crunchy or creamy, you decide)
1 1/2 tablespoons peanut oil
For the icing:
1/2 cup butter
1/4 cup cocoa
6 tablespoons buttermilk
1 pound powdered sugar
1 teaspoon vanilla
Preheat oven to 350 degrees F. In a saucepan, combine butter, cocoa, water and buttermilk. Add eggs, stirring constantly over low heat until mixture bubbles. In a large bowl, mix sugar, flour, and baking soda. Stir hot mixture into dry ingredients. Beat until smooth. Stir in vanilla. Spread mixture evenly into a greased and floured 9×13″ baking pan. Bake 25 minutes or until firm to the touch in the center. Cool.
In a bowl, mix together peanut butter and oil (for the peanut butter layer) until smooth. Spread mixture over cooled cake.
To prepare the icing, in a saucepan, heat butter, cocoa, and buttermilk until bubbly. Place sugar in a large bowl and beat in hot mixture until smooth. Stir in vanilla. Spread mixture over peanut butter layer. Eat and enjoy!