Posted by Mandy on December 13th, 2011. Filed under:
Candies
,
Chocolate
,
Christmas
,
Desserts
,
Gifts from the Kitchen
,
Holiday Favorites
,
Snacks
.
We all think of toffee when we think of Christmas, don't we? It's one of those things we don't think about much at all, but then when Christmas rolls around everyone pulls out their family's favorite toffee recipe. Well, this is my Nana's. I'm sure a friend gave her the recipe who received it from another friend. You know how that goes, but I'm sure she's been making it for years and years. This is the first year I've made it for my family and I ended up taking it to a couple of gatherings I've been as well this year. It has not gotten a bad review yet, so here's hoping you like it as much as we all do!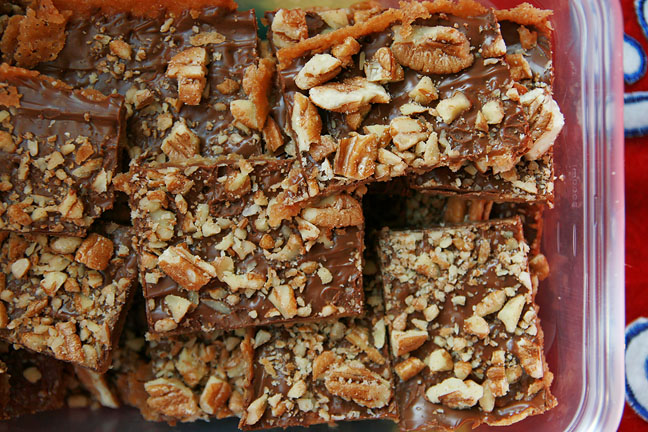 Toffee Bars
2 sticks butter, softened
1 cup light brown sugar
1 egg yolk, lightly beaten
1 cup flour
1/4 teaspoon salt
1 teaspoon vanilla
6 Hershey bars (milk or dark chocolate, your choice)
chopped pecans
Preheat oven to 350 degrees F. Cream butter and sugar. Add egg yolk, flour, salt, and vanilla. Cream well and spread evenly into a 9×15″ pan. Bake for 20 minutes; remove from oven and immediately spread Hershey bars over the top. Sprinkle chopped pecans over chocolate. Chill until hard enough to cut into squares.