Posted by Mandy on December 12th, 2011. Filed under:
Candies
,
Chocolate
,
Christmas
,
Desserts
,
Gifts from the Kitchen
,
Holiday Favorites
,
Kids Can Help
.
I have no idea where this recipe originated since we've been making it every Christmas for as long as I can remember, but I would love to personally thank whoever came up with it. As you all know, I'm a bit of a peanut butter and chocolate addict. You put the two of those things together and I am sure to love whatever it is. This treat is no exception. In fact, it's so good that I only allow myself to make it one time of year, at Christmas. Truth be told, I took this photo last year but never had the chance to blog it before Christmas passed. I haven't posted it since because I didn't want it to get lost in the posts and then forgotten about when Christmas rolled around this year. So here 'ya go, do yourself a favor and make some of this ASAP!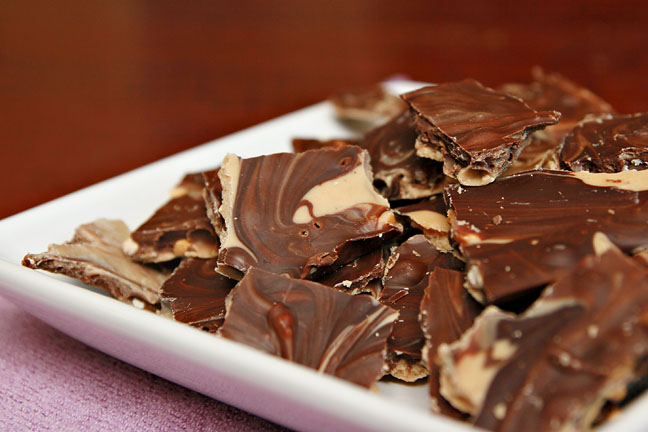 Tiger Butter
1 (16 oz) package white chocolate chips
1 (16 oz) package semi-sweet chocolate chips
1 (12 oz) jar crunchy peanut butter
Prepare a sheet pan by lining it with waxed paper; set aside. In a double boiler, melt white chocolate and peanut butter until creamy. Pour peanut butter/white chocolate mixture onto the waxed paper. Melt chocolate chips in the double boiler; pour over peanut butter mixture. Run a knife through mixture to swirl the mixtures together; refrigerate until set. Break into pieces.