Posted by Mandy on December 10th, 2011. Filed under:
Candies
,
Chocolate
,
Christmas
,
Desserts
,
Gifts from the Kitchen
,
Holiday Favorites
,
Kids Can Help
,
Snacks
,
This & That
.
Nothing says the holidays quite like this yummy, crunchy, pepperminty bark! I make this bark every year and package it in pretty little containers to give away. It makes great gifts for office friends, bosses, customers, teachers, and friends! It's also something great to take to holiday parties. And to make it even more appealing, it's absolutely the easiest thing in the world to make! Just melt the chocolate, stir and spread! You can't go wrong with this recipe!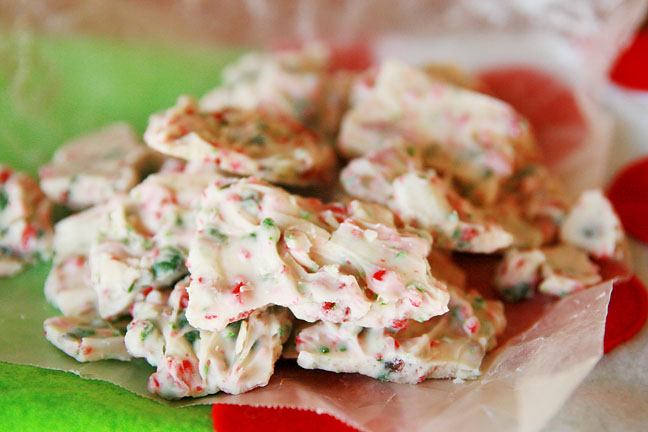 Peppermint Crunch Bark
1 (16 oz) package red and green peppermint candy crunch*
2 (16 oz) packages white confectionary coating or white candy melts
Prepare a sheet pan or tray by lining it with waxed paper. Melt coating in a microwave-safe dish on 50% power in 30 seconds increments, stopping to stir in between. Continue cooking and stirring until completely melted. Stir in peppermint candy crunch. Spread on the prepared waxed paper; set aside. Allow to set until firm and then break into bite size pieces.
*I purchase these candy pieces at our local cake supply store, but they can also be ordered online. If you can't find the candy pieces, feel free to substitute crushed peppermints or candy canes, although the candy pieces make for a much better bark in my opinion.