Posted by Mandy on October 22nd, 2010. Filed under:
Chicken
,
Main Dishes
,
Salads
.
Megan, as spoken of in the above title, is my little sister. She's not much of a cook, to say the least. She owns her own home but has probably only used the oven a total of 5 times since moving in 4 years ago. I think she lives solely on turkey sandwiches and whatever I happen to be cooking. As a matter of fact, she was put in charge of making a Pecan Cheesecake Pie for Thanksgiving one year, and well…she fell asleep while it was baking and ended up cooking it for 2.5 hours when it was only supposed to be cooked for about 45 minutes. The worst part was that she still brought it to dinner and got her feelings hurt when no one wanted to taste it! She also made a buttermilk pie one time that was so liquidy we called it buttermilk soup! She isn't extremely gifted in the culinary department, but there is one thing that she can make and she makes it very well. Her chicken salad. It's so yummy that I craved it when I was pregnant with my youngest and made her make it on several occassions. It's absolutely delicious and so easy! Since you aren't lucky enough to have her in your home to make this for you, I thought I'd share some photos of her making it so that you all can make it in your homes too!
Start with the following ingredients: chicken, mayonnaise (we use Canola because it's healthier than the full-fat version), celery, onion, a touch of mustard, salt, and pepper. You can also add some chopped sweet pickle if you'd like, but we forgot to add it this time.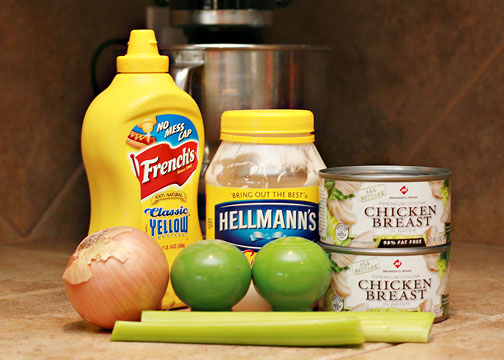 Open your cans of chicken and drain off all the juice. Chop finely with a chopper (or knife) and place in a large mixing bowl. And yep, that's her doing all the chopping!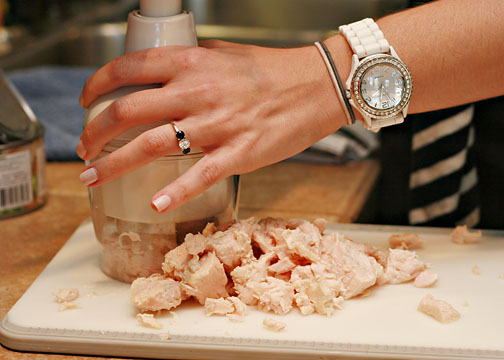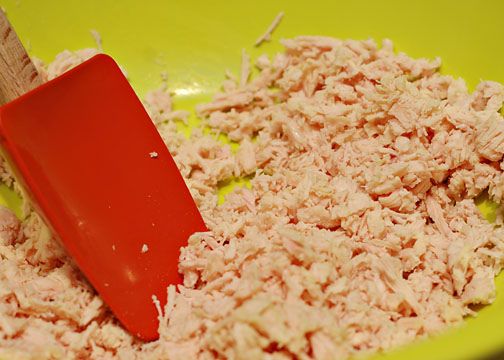 Chop up your celery and onion; add it into the mixing bowl and stir to combine. I'm adding this photo strictly for comical purposes. She was slicing the onion in these really thin slices and then using the chopper to chop it up. I was laughing hysterically at her because she thought that was all she could chop at a time. I chop a entire half onion at a time! I couldn't help but take a photo just to share with all of you cooks out there. I still love you Meg, even if you don't have excelling kitchen skills!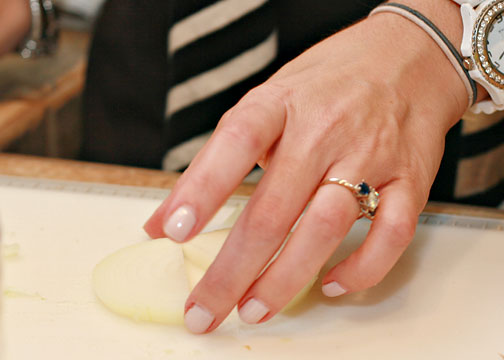 Add mayonnaise, just enough to coat all of the ingredients and make a consistency that you like. Start out with less than you think you'll need because you can always add more but you can't ever take it out once you've added it. We probably used about 3/4 cup for ours. Also add just a touch of mustard at this point. We used about a teaspoon.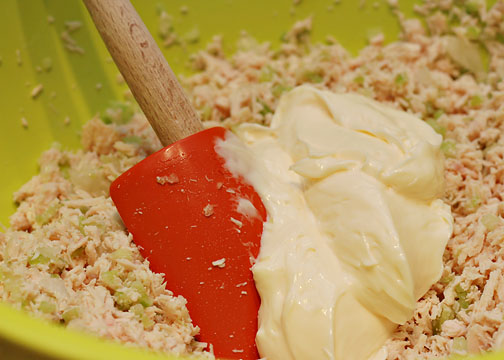 Add salt and pepper, to taste.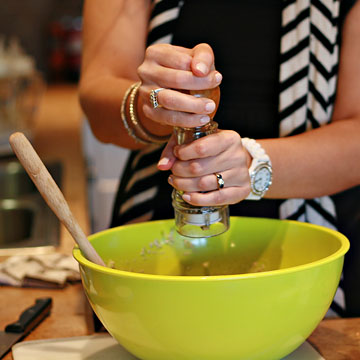 And it's that easy, you're done! Serve either on a sandwich roll or with crackers for a yummy lunch!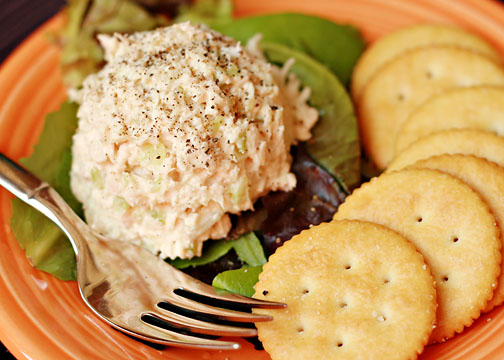 Megan's Chicken Salad
2 cans chunk chicken breast, drained & chopped
2 stalks celery, chopped
1/4 onion, chopped
3/4 – 1 cup mayonnaise
1 teaspoon yellow mustard
salt & pepper, to taste
Mix all ingredients well. Serve as desired.