Posted by Mandy on December 8th, 2011. Filed under:
Breads
,
Breakfast
,
Brunch
,
Cakes
,
Christmas
,
Coffee Cakes
,
Desserts
,
Fruit Desserts
,
Holiday Favorites
.
I am a little embarrassed to admit it, but last year during the Christmas season I went a little nuts. I bought six packages of gingerbread cookie mix because they only sell them during Christmas season, and well…what if I get the hankering for a gingerbread cookie in July? I personally have never made gingerbread cookies from scratch for no other reason than the ones from the mix are so durn good I just don't think that I could make them any better. And truth be told, one of the main reasons we make gingerbread cookies is so that the kids can have fun decorating them. And let's face it…as long as they have sugar in them (and on them!) they don't really care what they look or taste like.
Because I have so much of the mix, I decided I needed to find a way use up some of them. This recipe jumped off the website to me right away because my family is a huge fan of apple cakes. And boy oh boy did they love this! To me, the cake was best warm right out of the oven but it's not too shabby no matter how you serve it. If you're a coffee drinker (and that I definitely am NOT!) these would be delicious with an afternoon cup of the warm black stuff. Then again, it's good anytime to me!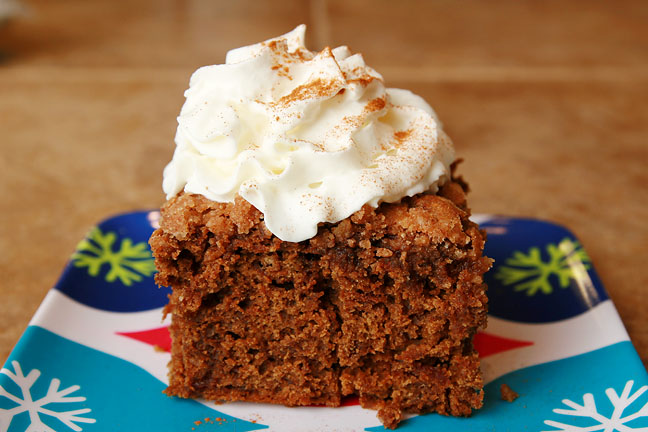 Gingerbread Apple Streusel Coffee Cake
1 package gingerbread cookie mix
1 1/4 cups lukewarm water
1 egg
2 apples, peeled & diced (I grated mine)
2 tablespoons butter, softened
1/2 cup packed brown sugar
1/3 cup all-purpose flour
1 teaspoon ground cinnamon
1 teaspoon ground cinnamon
dash salt
Heat oven to 350 degrees F. Lightly spray a 9″ square pan with cooking spray. In a large bowl, stir together gingerbread mix, water, egg, and diced (or grated) apples. Spoon into prepared pan. In a small bowl, mix butter, brown sugar, flour, cinnamon, and salt with a fork until crumbly. Sprinkle evenly over gingerbread batter. Bake 35-40 minutes or until toothpick inserted in center comes out clean. Serve warm or cold.
Recipe from: http://www.bettycrocker.com/recipes/gingerbread-apple-streusel-coffee-cake/e4366c85-2c68-4ad2-8d4a-5f343a3b0507#?st=6&term=gingerbread cookie mix&ps=9&pi=9&fv=AND(HasGridViewImage%3ATrue)