Posted by Mandy on December 6th, 2011. Filed under:
Candies
,
Chocolate
,
Christmas
,
Cookies & Bars
,
Desserts
,
Gifts from the Kitchen
,
Holiday Favorites
,
Kids Can Help
,
Snacks
.
I hope you like Christmas candy because I am on Christmas candy overload and am trying to post some of my favorites for all of you to enjoy. Speaking of, everyone loves Reese's Peanut Butter Cups, right? If you don't, you deserve a bed at a mental hospital in my opinion. Seriously, who couldn't love chocolate cups filled with peanut butter filling? It's one of the most ingenious inventions ever, in my opinion! For those of you that do love these ever-favorite candies, these bars are definitely for you! I won't go so far as to say they taste exactly like Reese's cups, but they do make a good homemade version. My two year old cannot keep her hands off of them, and wakes up every single morning since I made them telling me she needs some "Mommy Candies". Who am I to tell her no when she asks in such a sweet, angelic little tone? 😉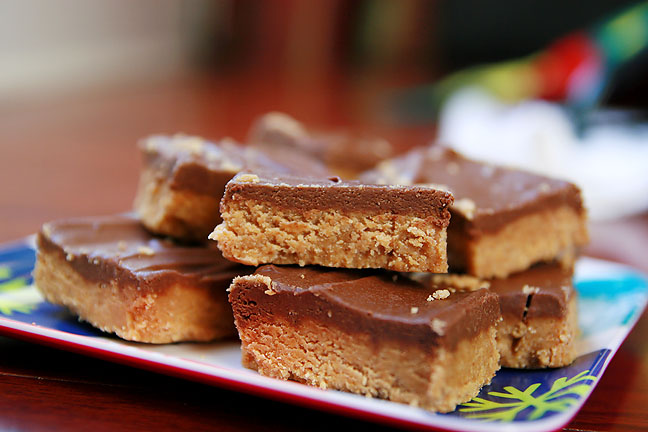 Reese's Bars
1 cup butter or margarine
1 1/2 cups graham cracker crumbs
2 cups powdered sugar
1 cup creamy peanut butter
1 1/2 cups semi-sweet or milk chocolate chips
4 tablespoons (1/4 cup) peanut butter
Melt together 1 cup butter and 1 cup peanut butter, stirring well to combine. Remove from heat and stir in powdered sugar and graham cracker crumbs. Pour into a butter 9×13″ baking dish and spread into an even layer. Refrigerate for 20 minutes, or until set. Meanwhile, melt together the chocolate chips and 4 tablespoons peanut butter. Pour over the peanut butter in the dish, spreading to make another even layer. Refrigerate until set and cut into small squares.