Posted by Mandy on December 5th, 2011. Filed under:
Candies
,
Chocolate
,
Desserts
,
Fruit Desserts
,
Gifts from the Kitchen
,
Holiday Favorites
,
This & That
,
Uncategorized
.
Can you say heaven on earth? Because that's what these little bits are, little tiny pieces of heaven right here on earth! I actually made this recipe last week and the day after my mother-in-law came over to keep the kids for me while I went to run an errand. When I came back she said she had tasted them and that they were so good! I was a sweet little daughter-in-law and sent her home with some of the candy for being kind enough to come keep my munchkins for me and when we went over the next day to visit them there wasn't any left so I think my father-in-law liked it as well.

Although this is a new-to-me recipe, this one will be made every single Christmas from here on out. You can mark my words on that, this is a new Christmas favorite!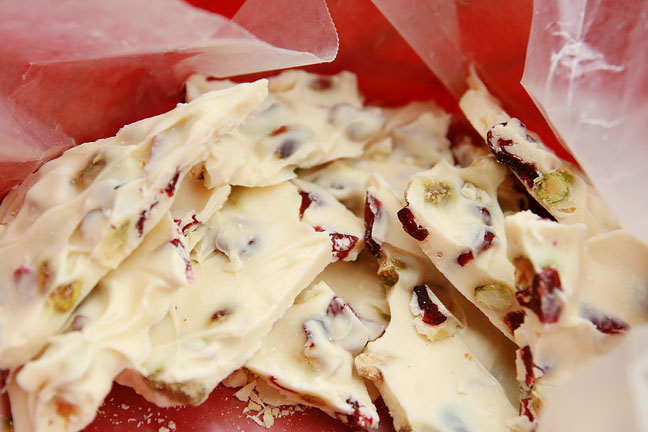 Pistachio & Cranberry White Chocolate Bark
1 lb. white chocolate (I used white chocolate candy melts)
1/2 cup shelled pistachios
1/2 cup sweetened dried cranberries
Line a baking sheet with parchment paper and set aside. Melt the white chocolate over a double boiler (or in the microwave). Once melted, remove from the heat and let sit for a few minutes to cool slightly, stirring occasionally. Add the pistachios and cranberries and stir to combine. Spread the chocolate mixture onto the prepared pan in an even layer. Refrigerate until set, about 30 minutes (I just let mine sit out on my counter and it set within an hour). Using a knife, cut into pieces or break the chocolate into pieces. Store in an airtight container.
Recipe from: http://www.browneyedbaker.com/2010/12/03/pistachio-cranberry-white-chocolate-bark/