Posted by Mandy on November 27th, 2011. Filed under:
Brunch
,
Chicken
,
Holiday Favorites
,
Main Dishes
,
Quick & Easy Weeknight Meals
,
Sandwiches
,
Sauce
,
Thanksgiving
,
Turkey
.
Are you folks sick of turkey yet? I'm not! I could think of a million ways to use leftover turkey but this recipe I'm sharing today is one of my absolute favorites. I'm a self-proclaimed sandwich addict. I could probably eat nothing but sandwiches for meals the rest of my life and still be a happy girl. Notice I said "for meals" because I'd still have to have dessert.

This sandwich is so simple to throw together yet so unbelievably delicious, I know you are going to love it! So if you are still looking for a way to use up some of that leftover turkey, please give this sandwich a try!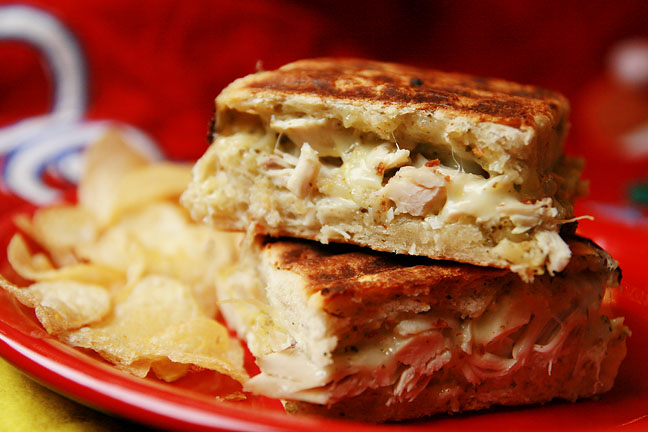 Turkey Pesto Panini
turkey, whatever kind you like and however much you prefer (I used leftover turkey from Thanksgiving)
1 tablespoon prepared pesto
3 tablespoons mayonnaise
sliced Provolone cheese
focaccia (any kind of bread would work here but focaccia has so much flavor…I used garlic and herb flavor)
butter
Preheat a panini press (or warm your skillet) over medium-high heat. Mix together mayonnaise and pesto. Spread generously over split focaccia. Top the bread with sliced turkey and a slice of Provolone cheese. Spread butter on the outside of the bread (I used butter spray), and grill until cheese is melted and sandwich is heated through. Serve hot.