Posted by Mandy on November 18th, 2011. Filed under:
Desserts
,
Fruit Desserts
,
Holiday Favorites
,
Pies
,
Pies & Pastries
,
Snacks
.
Bear with me on today's post as I try to type with a pinky finger covered in layer after layer of gauze, then topped off with a finger sling (what do you call these things anyway?). Word to the wise, don't get into a fight with your vaccum cleaner…it will win! Ugh, so now all of the yummy recipes I had planned to cook for you all in regards to Thanksgiving next week will just have to wait since I can't really wash dishes (and my hubby is the "anti-dishwasher"…he was even kind enough to leave his dishes in the sink this morning knowing how bad my finger hurts and that I can't get it wet). In the meantime, I'll continue to blog for you a few things that I already have photos of, this Sweet Potato Pie being the first of those.
You know that when you think of Thanksgiving there are a few things that come to mind, and for me, one of those things is sweet potatoes. Now I'll admit I'm not much of a sweet potato fan but this pie is delicious! It's super simple and a true crowd pleaser, so if your family includes some sweet potato lovers make this for them next week and you're likely to get hugs and kisses all day long!
So until next time, y'all answer this question for me by commenting…what is your favorite Thanksgiving dish/dessert/food item?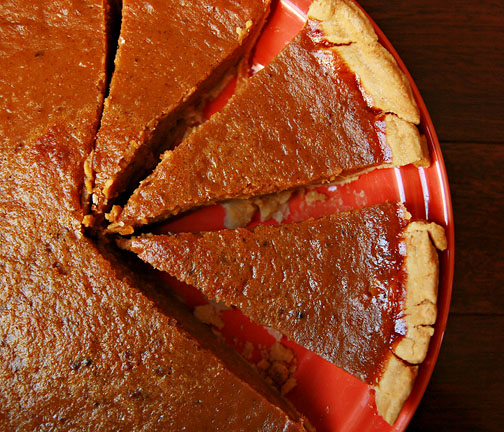 Sweet Potato Pie
1 unbaked 9-inch pie dough
2 large eggs, beaten
1 3/4 cups mashed baked sweet potato (I used boiled, mashed sweet potatoes)
3/4 cups dark brown sugar
1 teaspoon vanilla
3/4 teaspoon cinnamon
1/4 teaspoon salt
1/4 teaspoon nutmeg
1 (12 oz) can evaporated milk
Preheat oven to 425 degrees F. On a lightly floured work surface, roll out pastry into a 12″ circle. Line a 9″ glass pie plate with pastry; set aside. In a medium bowl, combine sweet potatoes, eggs, milk, brown sugar, salt, cinnamon, and nutmeg. Pour into pie shell and bake for 15 minutes. Reduce oven temperature to 350 degrees; bake 40-45 minutes or until firm. Cool on wire rack for two hours. Serve at room temperature or chilled with whipped cream, if desired.
Recipe adapted from: http://delightfulrepast.blogspot.com/2011/07/sweet-potato-pie-classic-southern.html