Posted by Mandy on November 7th, 2011. Filed under:
Brunch
,
Cakes
,
Desserts
,
Fruit Desserts
,
Holiday Favorites
,
Vegetables
.
I'll be honest with you, I've never really been much on sweet potatoes. I think it all comes from a yucky, stringy baked sweet potato I had about 18 years or so ago. I haven't been able to get it out of my head since, thereby avoiding sweet potatoes since that very day. That is…until now. I'm now much more mature (although that could be debated) and am much more willing to taste things that aren't normally in my comfort zone.
So when my brother gave me about 15 pounds or so of sweet potatoes, I knew it was time to conquer my fear of everyone's favorite orangish potato. What better time than around Thanksgiving when sweet potato desserts and casseroles are abundant? You all need some new recipes for this year's Turkey Day, right?
I stumbled upon this recipe in an old community cookbook that I had tucked away in my huge collection and it sounded right up my alley. Boy was I ever impressed with the deliciousness of such a simple recipe. You basically just dump some things together and bake. So if you are looking for something simple to make to take to your holiday gathering this year, this is it! If I loved it the way that I did, imagine how much all of the sweet potato lovers will love it!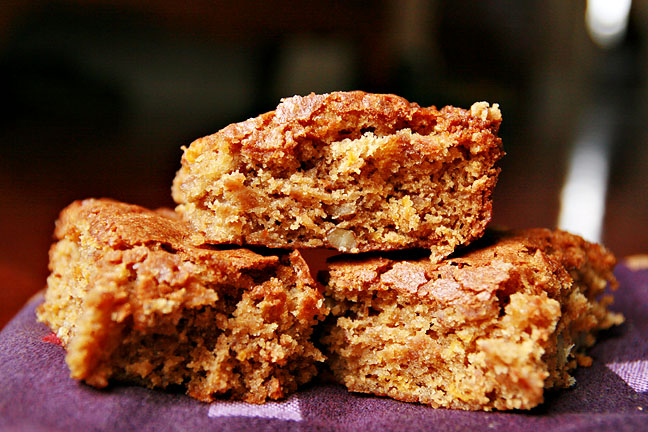 Sweet Potato Snack Cake
1 (16 oz) box dark brown sugar
1 cup vegetable oil
4 eggs
2 teaspoons vanilla extract
2 cups baking mix (I used Bisquick)
1 cup chopped pecans
1 cup shredded sweet potatoes
Preheat oven to 350 degrees F. Mix all ingredients together until well combined. Pour into a sprayed 9×13″ baking dish. Bake for 45 minutes, or until done.