Posted by Mandy on November 2nd, 2011. Filed under:
Bacon
,
Main Dishes
,
Quick & Easy Weeknight Meals
,
Soups & Stews
,
Vegetables
.
It's finally cooling off down here in the South, although we are still much warmer than the rest of the country. Still, it's cool to me and you know what that means? I am craving soup! It doesn't matter what kind, I'll try anything as long as the weather is cool. My 5 year old daughter's favorite soup in the whole wide world is corn chowder, so I have been on a mission lately to make a version that holds up to her high standards of a particular restaurant's version in Boston.
I made this chowder following a recipe exactly the first time, but everyone in my family was a bit disappointed. I thought it tasted a bit off myself, not bad by any means but definitely nothing like the corn chowder we always look forward to having in Boston. So I finally decided I'd give the same recipe a try again, but this time use frozen corn kernels instead of fresh corn cut from the cob, and what do you know? It tasted almost just like our version from Boston that we love so much! As a matter of fact, my daughter loved this soup so much that she took it every single day in her lunchbox the rest of the week and then would come home wanting more! I did tell you it's her favorite soup, didn't I? Since this recipe fits the bill for her, I'm sure we'll be making it often in the future here at our house.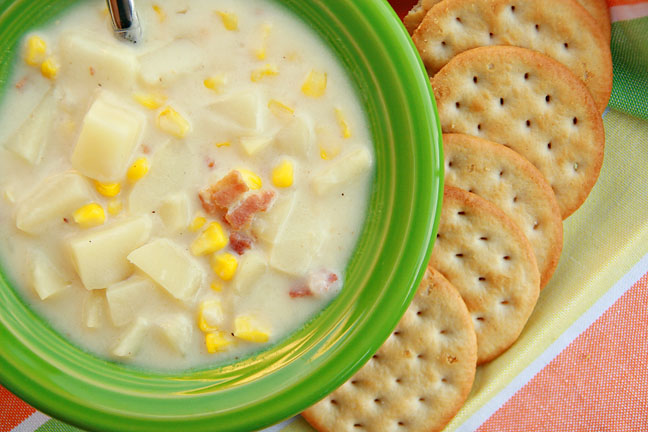 1 tablespoon canola oil
1 ounce bacon, minced (about 1 slice)
1 onion, minced
2 garlic cloves, minced or pressed
3 tablespoons all-purpose flour
2 cups chicken broth
1 cup milk (1% works well and keeps the calories and fat down)
1 pound red potatoes, peeled (if desired) and cut into 1/4″ cubes
2 cups frozen corn kernels
1 bay leaf
1/2 cup half-and-half (fat free works well)
salt and pepper, to taste
Heat the oil in a large Dutch oven over medium heat until shimmering. Add the bacon and cook until rendered and crisp, about 3 minutes. Stir in the onion and cook until softened, about five minutes. Stir in the garlic and cook until fragrant, about thirty seconds. Stir in the flour and cook until lightly browned, about one minute. Slowly whisk in the broth and milk, scraping up any browned bits from the bottom of the pan. Stir in the potatoes, bay leaf, and corn. Bring to a simmer, partially cover, and cook until the potatoes are tender, about fifteen minutes. Discard the bay leaf and stir in the half-and-half. Season with salt and pepper to taste and serve.
Recipe adapted from: America's Test Kitchen "Healthy Recipes that Work" Summer 2011