Posted by Mandy on October 26th, 2011. Filed under:
Brownies
,
Cakes
,
Cookies & Bars
,
Desserts
,
Frosting
,
Fruit Desserts
,
Snacks
.
Just reading the title of this recipe makes my mouth water. Toffee? Apples? Blondies? Oh Em Gee are these ever so delicious! When I first saw this recipe it was one of those that I knew I just had to make soon, and I did…about 5 minutes later. It was a Sunday afternoon, and a day when I usually don't do much cooking (other than dinner) because it's a day I usually set aside just for spending time with my kids and hubby. But after seeing this recipe nothing was going to stop me from making it. And what kind of mother would sit on a couch all afternoon when there are no sweet homemade goodies in the kitchen for my youngins to snack on?
When I made these I had to taste the bars alone before frosting them, and of course again afterwards with the frosting. In my opinion they were delicious alone (without the frosting) and to be completely honest, the frosting was a little sweet for me. And that means it must be really sweet because I've yet to meet a dessert that I've ever referred to as "too sweet". I think that I would like the dessert with the frosting much better if it had about half as much of it on the top so the next time I make these I'll probably half the frosting. On the other hand, though, my parents said that these blondies were just perfect as is so whatever floats your boat! All I know for sure is that you should make these blondies soon, trust me your taste buds will thank you.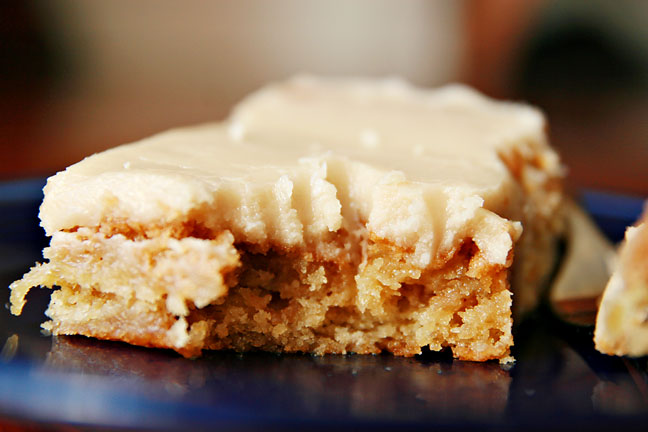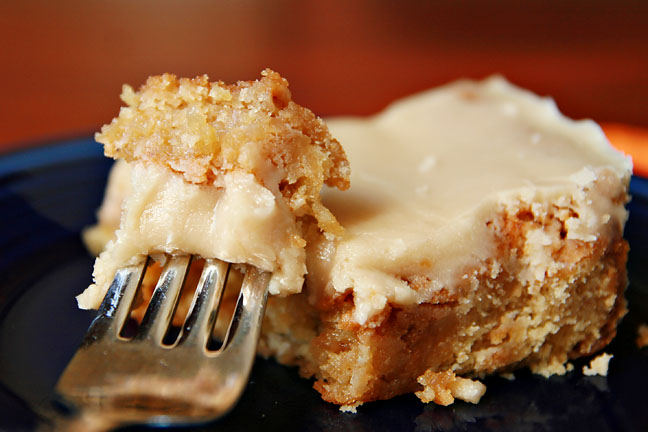 Toffee Apple Blondies
2/3 cup butter, at room temperature
2 cups packed brown sugar
2 eggs
2 teaspoons vanilla extract
2 cups all-purpose flour
2 teaspoons baking powder
1/2 teaspoons salt
1 cup peeled, chopped tart apple (1 large – I grated mine instead of chopping it and used Fuji because it's what I had on hand)
1/2 cup toffee bits
Preheat oven to 350 degrees F.  Spray a 9×13″ baking dish lightly with cooking spray. Cream butter and brown sugar in mixer until smooth. Add eggs and vanilla and beat on medium until combined. On low, add flour, baking powder, and salt; mix until just combined. Stir in chopped (or grated) apple and toffee bits until evenly distributed. Spread mixture in prepared pan and bake for 30 minutes, or until the center is set. Let cool completely before slicing or frosting.
Brown Sugar Frosting
1/2 cup butter
1 cup packed light brown sugar
1/4 cup milk
2 cups powdered sugar
Melt butter in a medium saucepan. Add brown sugar and milk and bring to a boil. Remove from heat; allow to cool for 5 minutes. Whisk in powdered sugar and allow mixture to cool until it thickens enough to spread (mine never fully thickened so I just poured it over and spread it out). Allow frosting to set for 30 minutes and then cut into bars.
Recipe from: http://cookiesandcups.com/apple-toffee-blondies/