Posted by Mandy on October 18th, 2011. Filed under:
Beef
,
Main Dishes
,
Mexican
,
Quick & Easy Weeknight Meals
,
Soups & Stews
,
Vegetables
.
I know, I know…everyone already has a recipe for Taco Soup in their favorite recipe book. But mine is probably different. We've discussed my hubby's pickiness before. Sometimes I feel like just walking away and not fixing my picky eaters anything at all! Making taco soup in my house used to involve making three different pots of soup…one for me (I like everything), one for the kid who doesn't like corn, and one for the hubby who doesn't like beans. Needless to say, I got tired of all that washing and came up with a version that we can all agree it. Is it traditional? HEEEECCCCKKKK NO! But you know what, fixing one pot (even if it's not the way that I prefer it to be made) is easier than three different pots. So here's our family's mish-mash, thrown-together, not-traditional-at-all version of the ever popular soup.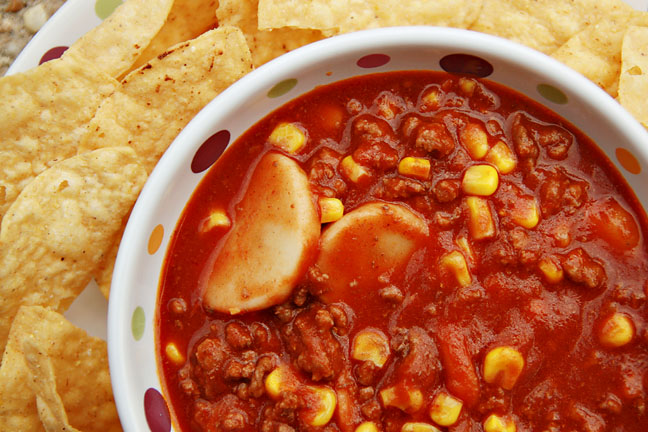 Taco Soup
1 pound ground beef
1 small onion, diced
2 cloves garlic, minced or pressed
2 cups chicken or beef broth
1 can whole kernel corn, drained
1 (8 oz) can tomato sauce
1 (6 oz) can tomato paste
1 (15 oz) can sliced or diced potatoes, drained
1 packet taco seasoning (we prefer Old El Paso brand)
In a large Dutch oven over medium-high heat, brown ground beef; add onion and garlic, cooking until onion is translucent. Drain and return to pan. Add remaining ingredients and cook over medium heat until heated through. Serve with desired toppings such as sour cream, sliced green onions, tortilla chips, corn chips, and shredded cheese.