Posted by Mandy on October 14th, 2011. Filed under:
Brownies
,
Candies
,
Chocolate
,
Cookies & Bars
,
Desserts
,
Halloween
,
Holiday Favorites
,
Kids Can Help
,
Snacks
,
Uncategorized
.
 Why do they do this to me? Design all of those cutesy displays and fill row after row with all different kinds of candy? Oh and what's that you say? These big bags of yummy candy deliciousness are on sale for 2/$5? Well in that case, I'll take two of every bag you sell thankyouverymuch. Please tell me that I'm not the only pig that sees these bright and colorful bags full of candy and can't resist them. Please! Every year I buy bag after bag saying, "I'll get these now and put them up until Halloween so I won't have to buy any then." YEAH RIGHT! Like that's gonna happen. I can't resist those bags full of chocolate in my cabinet nor can my kids.
Okay, so now that all of you know I'm a fatty that just can't so no to a cute bag of candy we can move on to a recipe that puts to use all of those candies. Snickers are one of my favorites. Oh, and Pay Days…can't forget Baby Ruth…or Reese's (who doesn't like Reese's for crying out loud?)…well, you get the point…let's get back on track here. So since I had two bags of Snickers on hand I decided to make an old recipe that my mom shared with me. Someone (although we can't remember who) shared this recipe with her when my brother had his senior party back in '99 and brought these bar treats. That's how long we've been making them and I tell 'ya, they are so yummy and easy that I don't think I'll ever stop making them.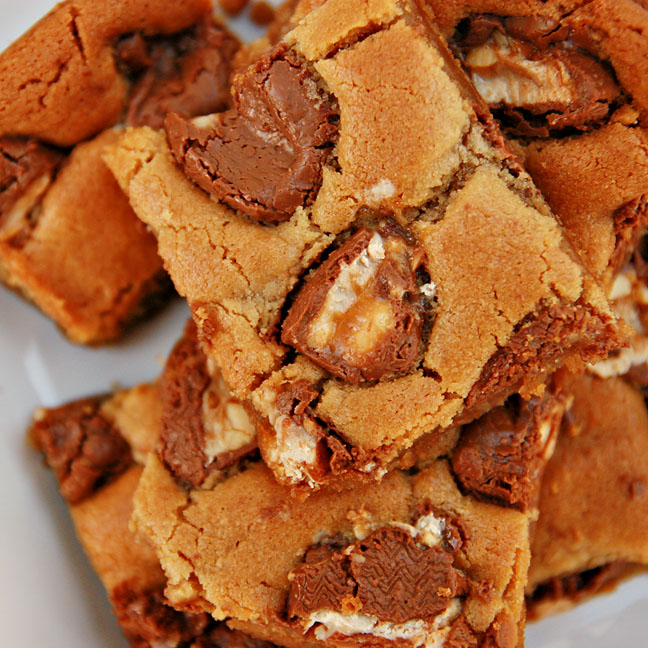 So put all of that good Halloween candy you've bought to good use and make some of these bars. You know it won't last until Halloween at your house either!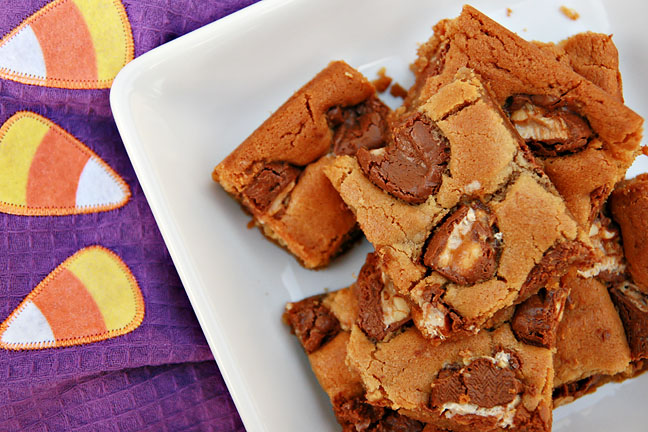 Peanut Butter Snickers Bars
1 roll peanut butter cookie dough, softened
10-15 fun size Snickers candy bars, chopped into bite size pieces
Preheat oven to 350 degrees F. Press the softened cookie dough into a 9×13″ baking dish. Top with chopped candy bars. Bake until golden brown and cooked through. Allow to cool before cutting into squares.