Posted by Mandy on October 7th, 2011. Filed under:
Chicken
,
Main Dishes
,
Mexican
,
Quick & Easy Weeknight Meals
,
Rice
,
Sandwiches
,
Vegetables
,
Wraps
.
Being that I am a stay-at-home-mom, I very rarely get to go outside of the house for a meal. Which completely okay by me, because I could survive on these wraps alone. I kid you not, they are that good. I usually make up the filling for these wraps (corn, black beans, chicken, rice) on a Monday and simply pull out enough for one wrap each day during the week. Heat up the filling while your tortilla is warming, fill it up, top as desired and lunch is served! To make things even better, my kids love these too. I've even gotten my hubby addicted to them and he now requests them pretty regularly for dinner as well. I've even eaten them for both lunch and dinner in the same day and they never get old. One night before we left for Boston a couple months ago, my mother and father-in-law happened to be visiting us and we warmed these up for dinner. They raved over how good they were and couldn't believe how easy it was to just warm them up. My personal favorite way to top these is with a little shredded iceburg lettuce, some chopped tomatoes, and ranch dressing. You feel free to top them however you prefer though…you really can't go wrong!
Nothing beats an easy meal on those nights when you just don't feel at all like cooking. And with three small kids, I have those days pretty often.

So make these soon if you feel as exhausted as I do on a daily basis.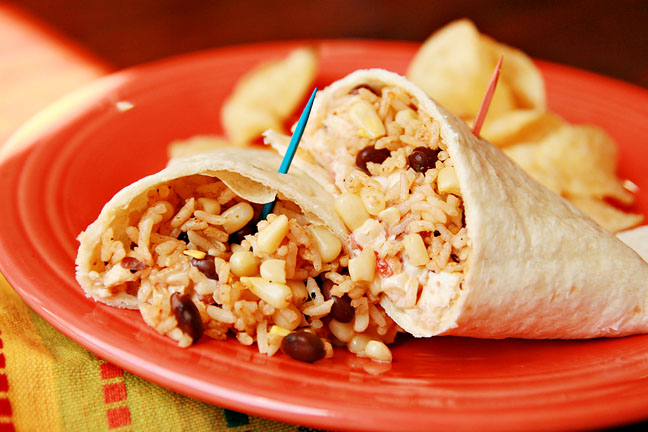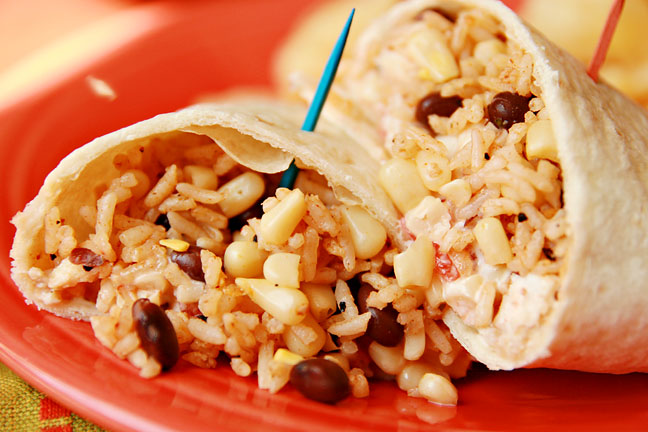 Southwest Chicken Wraps
2 boneless, skinless chicken breasts
olive oil, for brushing chicken
salt & pepper, for sprinkling chicken
1 cup long grain white rice
BBQ rub, to taste
1 can whole kernel corn, drained
1/2 can black beans, rinsed & drained (or more, if desired)
tortillas
toppings of your choice (salsa, sour cream, cheese, ranch dressing)
Preheat oven to 350 degrees F. Prepare chicken by cutting off all visible skin and fat. Place in a baking dish, and spread the olive oil lightly on the chicken. Sprinkle generously with BBQ rub, salt and pepper. Place in the oven and bake for 13 minutes on one side, flip and bake for another 13 minutes. Remove from oven and cube into 1/2″ pieces. Meanwhile, cook rice according to your preference (I use a rice cooker), making sure to salt rice before cooking. Sprinkle rice generously with BBQ rub while still warm. Mix together corn, black beans, chicken, and rice. Warm tortillas and fill with chicken filling. Top as desired. Roll up, burrito style and serve warm with your favorite chips.